Patience was key to the West Indies' belated resistance to the Prime Minister's XI in Canberra on Wednesday, according to pacesetter Alzarri Joseph.
The visitors stared into another disastrous day with the ball as the PM's XI were 0-134, but showed courage to take six wickets in the evening session to finish the day at 9-297.
Joseph took three of those wickets in the final session and knocked down three batters with the new pink ball as his side finally showed some promise ahead of their Frank Worrell Trophy series against Australia.
"This is a game of patience," Joseph told reporters. "You could bowl well in this session, but you have to be patient and your reward may come at the end of the match.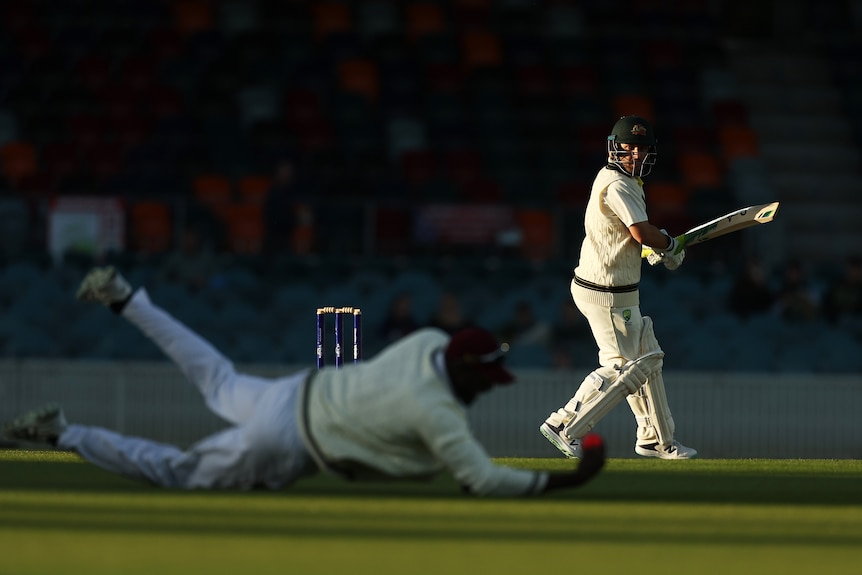 "You get your chance with a new ball. With the lights on, it has a little more effect and it does a little more.
"The pink ball is quite easy to hit [against] during the day, but when it gets to maybe 7 or 8 p.m., dusk starts to roll in and the light starts to work. Then you know the bowlers have a better chance."
Spinner Roston Chase was also instrumental in changing the game, producing a jewel that spun a lot and cleared Aaron Hardie before another great pitch passed Peter Handscomb and stumped him for 55.
It was the lifeline they needed after a dismal afternoon that saw the Prime Minister's opening actors, Marcus Harris and Matt Renshaw, traverse their triple-figure partnership.
Harris, the only PM's XI player in Australia's squad for the first Test in Perth next Wednesday, continued his hot form, making 73 before a loose blow saw him caught at second slip.
Renshaw took over and broke 10 boundaries during his 81, but also came under a century as he pushed Raymon Reifer to the slips.
Future Test hopeful Henry Hunt couldn't show the form that made him Sheffield Shield player of the year last season, meek for just 13.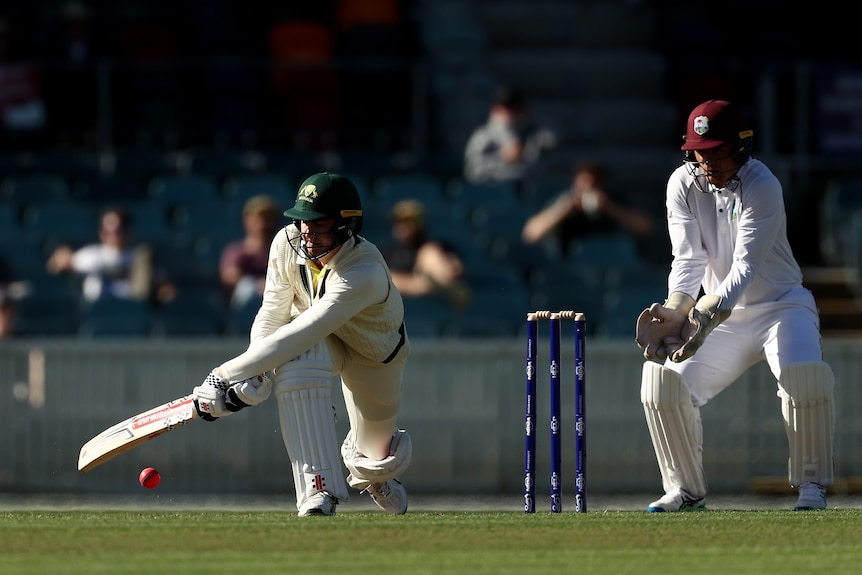 Renshaw said the West Indies bowlers could potentially go to Australia in the two Test series, especially under light.
"It was a fun day, challenging yourself against a pretty good bowling attack… they just kept coming and kept coming," Renshaw told reporters.
"They've bowled really well. Obviously they've got a few [of] also guys on the sidelines, who could come in.
"We always know the night sessions where you can come out and something can happen.
"They're an exciting young bunch and they've got some speed and they've got some skills… It'll be an interesting look for the summer test matches."
Joseph (3-52) led the way and Chase (2-72) was important, while the fast frontline took Kemar Roach 1-40.
It was an important fight back from the West Indies just days after a 4-426 against a combined ACT/NSW XI.
MONKEY