Thousands of young people have staged a coordinated "global climate strike" in Asia, Africa and Europe in a call for reparations for those hardest hit by climate change.
From New Zealand and Japan to Germany and the Democratic Republic of Congo, activists left schools, universities and jobs to demand that rich countries pay for the damage global warming is doing to the poor.
On the last day of action of the Fridays For Future movement, strikes were planned "for climate recovery and justice" in about 450 locations worldwide.
The protests are taking place six weeks before the Cop27 climate summit, where developing countries plan to push for compensation for climate-related destruction of homes, infrastructure and livelihoods.
In recent months there have been deadly floods that engulfed much of Pakistan, wildfires that ravaged North Africa, Europe and North America, and record-breaking heatwaves in Britain and India.
"We are on strike around the world because responsible governments are still doing too little for climate justice," said Darya Sotoodeh, a spokesperson for the group's Germany branch.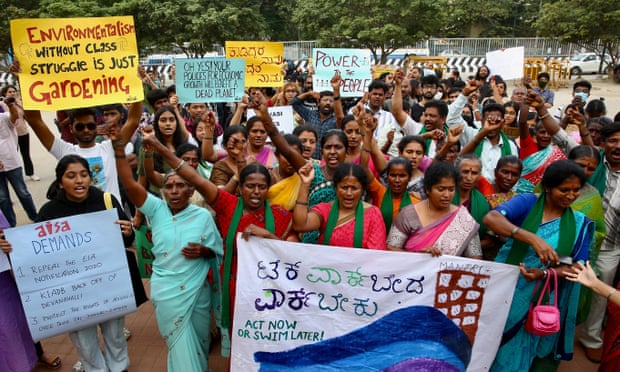 "One day it could be my house that gets flooded," said 15-year-old Park Chae-yun, one of about 200 protesters in Seoul, South Korea. "I live with a sense of crisis, so I think it's more important to convey my concerns to the government to take preventive measures than to go to school."
The biggest strike took place in Berlin, where an estimated 20,000 police in the German capital took part in a rally calling on their government to set up a 100 billion euro fund to tackle the climate crisis.
About 400 young activists gathered in the Democratic Republic of Congo's capital, Kinshasa, as they chanted "Act for Africa, protect our planet". They marched on the shoulder of a busy thoroughfare with cardboard signs that read "Climate Justice" and "Climate SOS".
In Rome, 5,000 young people showed up for a march that ended at the Colosseum. One carried a sign that read: "The climate is changing. Why not us?"
Denmark is the only wealthy country so far to receive more funding for the problem of "loss and damage" from climate-related disasters, announcing this week at the UN meeting that it would provide 100 million DKK (12 million pounds). to address the problem.
A statement on the Fridays For Future website said: "Colonizers and capitalists are at the heart of every system of oppression that has created the climate crisis, and decolonization, using the tool of climate recovery, is the best form of climate action."
The youth movement Fridays For Future started in 2018, inspired by Greta Thunberg's lone protests outside the Swedish parliament. It peaked in November 2019, when 4 million people worldwide took part in 4,500 actions on one Friday.