Sport climbing may help improve posture in Parkinson's disease (PD) patients, including elderly patients, new study suggests.
In a randomized controlled trial, those who participated in climbing a wall using ropes and fixed anchors were less flexed after 12 weeks than a control group who participated in some form of unsupervised physical activity.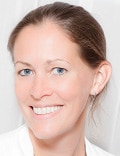 The results underscore that it's never too late to learn a new sport or type of movement — and that these types of interventions can have major health benefits, study researcher Heidemarie Zach, MD, an associate professor of neurology, Medical University of Vienna, Austria, said. Medscape medical news.
"There's no obstacle too high you can't climb, or a burden you can't overcome," Zach said. "As long as you can walk independently and climb stairs, you can start climbing."
The findings were presented at the International Congress of Parkinson's Disease and Movement Disorders (MDS) 2022, held in Madrid, Spain and virtually.
Common feature of PD
The analysis is part of a larger project that included a study published last year that showed a reduced Unified Parkinson's Disease Rating Scale Part III (UPDRS-III) score by nearly 13 points in patients participating in sport climbing. The activity was also significantly associated with improved bradykinesia, stiffness and tremor.
The current analysis focused on the stooped posture, which is a common feature of PD in addition to motor symptoms. This postural deformity can lead to significant discomfort, pain and reduced quality of life.
Pharmaceutical treatments are usually ineffective for postural deformities, researchers note. Physical therapy can help improve symptoms, but only a few randomized trials have examined improved posture in PD using physical therapy in general and alternative sports in particular.
Sport climbing is "truly unique" in PD, said Zach, who has yet to come across other research on this intervention. A climber herself, she recommended it to one of her patients: a 79-year-old man with PD who hiked and hiked, eventually loving the sport. She called him her "pilot patient."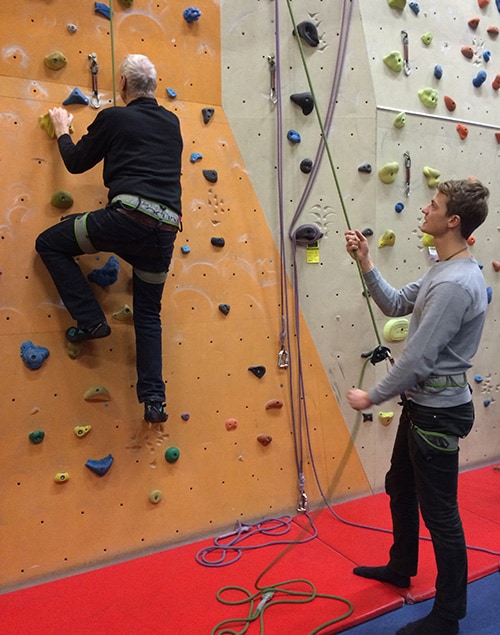 "There is no obstacle too high that you cannot climb or strain"
cannot overcome," said study researcher Dr. Heidemarie Zach.
The single-center study included 48 adult participants up to age 78 years (mean age, approximately 65) with mild to moderate PD. Most were in Hoehn & Yahr stage 2, with some in stage 3. All had no previous climbing experience. Exclusion criteria include having a condition other than PD.
Researchers randomly assigned participants to a sport climbing course or to a control group.
The sports climbing group had a 90-minute climbing session in an indoor gym every week for 12 weeks. Under the supervision of an instructor, they were rigged and tied to ropes with mats placed on the ground for safety.
The climbing wall was about 15 meters high. Participants typically started at 2 or 3 meters (6.5 to 9.5 feet) and worked their way up, Zach noted.
Those in the control group were asked to participate in unsupervised physical activity for 12 weeks, as recommended by the World Health Organization and the European Guidelines for Physical Therapy for Parkinson's Disease. This included a minimum of 2½ hours minutes of moderate-intensity activity or 75 minutes of vigorous activity per week.
Full body workout
The primary outcome was an improvement in posture, measured with a "simple" but very reliable tool, Zach said. While the patients were standing with their backs straight against a wall, the researchers measured the distance in centimeters between the C7 sagittal vertical axis (C7SVA) and the wall.
The mean baseline C7SVA did not differ significantly between the two groups, at 8.2 cm for the climbing group versus 7.7 cm for the control group.
However, the results showed that only sport climbing was associated with significantly reduced anterior flexion of the cervical spine
The climbing group showed a 1.7 cm decrease in C7SVA (95% CI, 0.8 – 2.6 cm). "So climbers were more upright and less bent over after 12 weeks," Zach said.
She noted that the mean difference in the control group was 0.5 cm (95% CI, -0.2 to 1.3 cm), which is "almost nothing."
There didn't seem to be any single predictor, such as age, gender or body mass index, for which subgroups of patients would benefit most from the intervention, Zach noted.
When explaining why climbing helps posture, she said it's akin to "a full-body workout."
The activity increases upper-body strength by using back and shoulder girdle muscles, as well as joint flexibility, Zach noted. Movements involved in climbing, such as repeatedly reaching for a distant grab, stretch the muscles of the hip flexors and hip.
Because these movements reduce stiffness, the climbing action can also promote an upright posture. And since wall climbing involves planning and executing movements, it trains spatial body awareness, an important part of maintaining and correcting posture, she said.
Zach noted that motivational group dynamics also likely contributed to the intervention's success. "They were cheering each other on at the bottom" of the climbing wall, she said.
The results show that posture can add to the improvements in PD already documented by climbing, including improved motor symptoms, stiffness and tremor, she said. The next step on the research agenda is to show whether the intervention has a positive effect on walking, Zach added.
"Very adventurous"
Respond to the survey for Medscape Medical NewsRebecca Gilbert, MD, PhD, Chief Scientific Officer at the American Parkinson Disease Association, said she welcomes "any new idea" to help patients with PD — and that sport climbing sounds "pretty adventurous."
"The general concept of asking the body to move in a new way is a good thing for everyone and especially for people with PD," said Gilbert, who was not involved in the study.
She noted that in PD, an ideal exercise intervention involves a combination of four modalities: stretching, balance, aerobics, and strengthening. Rope climbing involves a lot of these, in addition to a cognitive element, Gilbert said. It's also important that patients with PD participate in an activity they enjoy, she added.
However, she stressed that safety must be "weighted," especially for patients with stage 3 PD, who often have balance problems.
"It can be difficult to climb a rope if you have balance problems," Gilbert said. "The intervention should be tailored to the existing disability, and perhaps this activity is more reasonable for patients in milder stages."
Zach and Gilbert have not disclosed any relevant financial relationships.
International Congress on Parkinson's Disease and Movement Disorders (MDS) 2022. Executive Summary 739. Presented September 16, 2022.
For more news, follow Medscape on Facebook, TwitterInstagram, YouTube and LinkedIn