lIn Australia, 306,000 households currently receive aid from food aid organizations on a normal day. With wages stagnating and the cost of living rising, more and more working families, single parents and college students are queuing up for their next meal.
So when the treasurer stated that the pressure on our economy was felt most acutely around the kitchen table, he was not wrong.
Christmas will be extremely difficult for many families this year. But what some may not have realized is that those kitchen tables are in homes like yours and mine.
More than half of households with food insecurity have someone in paid employment. A job – or even several jobs – is no longer a shield against hunger or poverty.
We know that low-income people are good budgeters, but there's only so much leeway when your income is stagnant and your expenses are growing by the day.
Food bank recipient Charlotte* is a single mother who works part time. She struggles to make ends meet and finds that the increase in the cost of groceries is out of her price range. She talks about sacrificing lunch and eating one granola bar all day while giving what's left in her pantry to her three-year-old daughter.
Our report revealed that 1.3 million children lived in food-insecure households last year.
Many of these households are like Charlotte's where parents go without food to make sure their child is fed.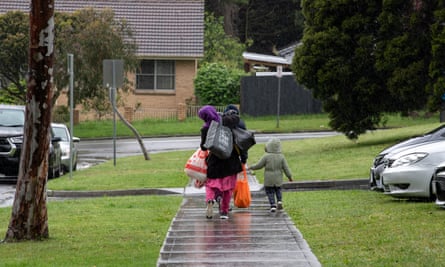 We are all too aware that Christmas will be extremely difficult for many families this year.
Food bank warehouses across the country are packing Christmas hampers, many working weekends to try to meet demand. We are in a fortunate position that community members and the Australian business community are committed to helping pack the tens of thousands of packages that will be distributed across the country, but will it be enough?
In a "normal", disaster-free year, perhaps.
But we haven't had a normal year in a while.
Devastating and sustained flooding in the food basins of NSW and Victoria will have long-lasting impacts on food supplies, with price increases expected to be felt not just for the rest of the year but well into 2023.
Emergency food aid packages and pallets of fresh produce have been making their way to flood-stricken areas in Victoria and NSW over the past month, on top of the continued support we provide to communities still recovering from previous disasters, right through to Black Summer.
We hear a lot about 'resilience' and the need for communities to prepare for natural disasters, but how do you prepare if you are still dealing with or recovering from the latest crisis? What does resilience look like when a cost-of-living crisis collides with an income crisis and a third straight La Niña?
Angela Finch, a working single mom of three daughters, wrote last week, "I've done everything I can to conserve energy and I can barely afford the cost of living."
There are only a limited number of cost-cutting measures a household can take before food becomes a discretionary expense in the family budget. This is one of the reasons why we see so many people new to food aid. They never thought they would have to choose between running errands or leaving the lights on. They never imagined that they would send their children to school on an empty stomach and encourage them to chew on a ball of paper to satisfy the hunger in class.
We live in one of the richest countries in the world. We produce enough food to feed our population three times over. Yet more than half a million households struggle every day in Australia to put food on the table.
If you are in the fortunate position to be able to donate, please do. We can turn $1 into $4 worth of food for people who really need it.
People who might be sitting across from you at work or at the bus stop, or waiting at the school gate. They are people on your street. They live paycheck to paycheck, hoping their world doesn't come crashing down the next time interest rates rise, the next time it floods, or the next time rents rise. Everyday things happen to ordinary people.
Brianna Casey is the CEO of Food Bank Australia
*Name changed for privacy reasons