If this was Kevin De Bruyne when he's bored, Belgium's World Cup opponents would instantly shudder at the prospect of the damage he could do if he's in the mood.
De Bruyne recently spoke of how he had grown tired of playing Wales – this was the ninth meeting between these sides in the past 10 years and the fourth in the past 18 months – but he scored a lavish goal and provided another goal for Michy Batshuayi to en route them to a Nations League victory.
Things looked ominous for Wales in the given time when Belgium should have been out of sight; De Bruyne shot a shot against the woodwork, Youri Tielemans skewed wide, Eden Hazard curled a shot just past a post and Batshuayi spooned another over.
But if anything reflected how things were stalling for Belgium, it was the sight of Roberto Martínez, one of the most calm and gentle characters in the game, who received the first red card of his managerial career after wasting time.
"It's a new experience," said Martínez. "I was surprised. I probably should have let the ball go and that was it, but the moment I kicked the ball [away] … I accept the referee's decision."
In reality, Wales were lucky enough to score just two goals at half-time, but the way they reacted should give them encouragement for their first World Cup in 64 years. It takes 60 days for them to start in Doha against the US and in the end, despite a draining first half, there was no shortage of reasons for optimism. Brennan Johnson's fearlessness proved a catalyst as Wales plotted a route back into the game, his cross delivered Kieffer Moore's header and Johnson went wide five minutes before the end after clinging to Connor Roberts' break.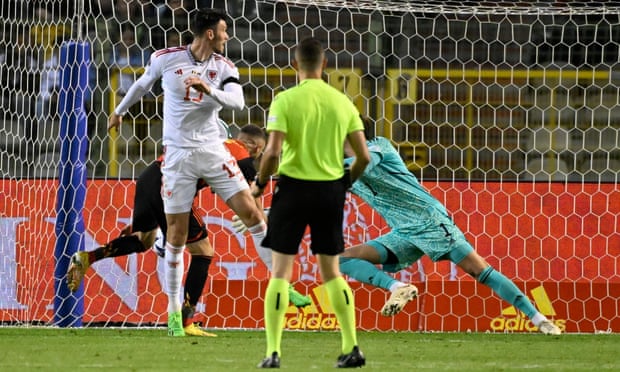 "It's a great lesson for us," said Wales manager Rob Page, who switched to 5-4-1 at halftime. "Every time we pressed high, they played through us. We changed that at halftime and went down a little bit deeper and changed the form."
Gareth Bale came on as a substitute in the 64th minute, but Aaron Ramsey, Ben Davies and Joe Allen were all out due to injury. Romelu Lukaku was a notable absentee for Belgium and perhaps it should have come as no surprise that they worked their way through a one-sided first half and shot like a well-oiled machine as seven of their starting lineups also started their Euro 2016 quarter-finals. defeat to Wales, with goalkeeper Wayne Hennessey the sole survivor of that day.
Wales actually started well, but struggled from the moment De Bruyne opened the scoring at 10 minutes, finishing off a typically slick Belgian move.
Thomas Meunier swung a smart first-time pass into the right channel for Batshuayi, who saw De Bruyne to his left. What happened next felt both glorious and hateful, painful from Wales's perspective. De Bruyne advanced to the edge of the penalty area and made a first shot at goal with his side legs, squeezing his effort past Hennessey, powerless to stop the ball nesting into the corner. De Bruyne's artistry caused endless problems and his perfect cross on the back post eight minutes before half-time gave Batshuayi a tap-in.
Martínez was one of the people spinning. "It's a message to all our fans: don't take it for granted to see Kevin De Bruyne play," he said. "I think he is the most incredible playmaker in world football right now, his way of looking at the game, his understanding of time and space, and then the execution. I thought his performance was magical, but he has that done consistently. Sometimes I look at him and we're so lucky to have a player like Kevin."
De Bruyne started off with a warm ovation for six minutes of stoppage time in the second half, but those with Welsh convictions might have had other names on their lips, that's how strong Wales finished the game. "It was a game of two halves," Johnson said. "In the first half we lacked a lot of faith, we didn't know how good we could be and especially not what we could bring in the future. We didn't show any of that. In the second half we came out with a different mentality and we were proud of ourselves. Rob Page told us to believe in ourselves, to show us why we're here, and I think we did."