Breel Embolo grew up in Basel, but was born in Cameroon's capital, Yaoundé, and only received Swiss citizenship eight years ago. That explains why the Monaco striker refrained from celebrating one of the easiest, but potentially most significant, goals he will ever score.
In an uneasy group also featuring Brazil and Serbia, this was a game Switzerland had to win and in the 48th minute, Embolo made sure it would prove mission accomplished.
It wasn't Embolo's fault that his six-yard finish drove a stake through Cameroon's hearts as the chances of their team progressing past the group stage for the first time since Italia 90 diminished significantly.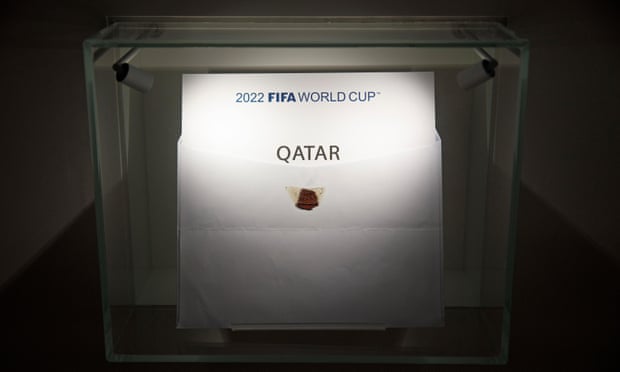 "Football writes these stories," said Murat Yakin, the Swiss coach. "I said to Breel: 'Cameroon is your friend, but they are also your opponents.' I'm happy with his performance."
The opening week of Qatar 2022 has seen plenty of intricate passing, intelligent movement and sometimes kaleidoscopic position changes, but Cameroon introduced a retro theme to remind everyone that corner balls aren't necessarily past their prime.
The game plan focused heavily on getting the ball to Eric Maxim Choupo-Moting long and early. The Bayern Munich striker remains familiar to his former crowd at Stoke, as does Switzerland's Xherdan Shaqiri. Now with Chicago Fire, Shaqiri, who also has a certain fan club at Liverpool, is Switzerland's creative catalyst, but he needed time to get going.
Every maneuver by Shaqiri in the first half was heavily overshadowed by Cameroon's left-back Nouhou Tolo. When Shaqiri switched wings, he experienced similar treatment from Collins Fai.
Such early struggles dictated that while the Indomitable Lions didn't always get their way in a central midfield manned for Switzerland by Arsenal's Granit Xhaka and Nottingham Forest's Remo Freuler, they were often free to focus on fueling Choupo-Moting.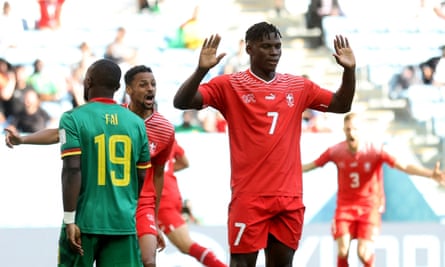 Yakin had left Newcastle's Fabian Schär on the bench and instead placed Manchester City's Nico Elvedi and Manuel Akanji in central defence. Choupo-Moting, before fading, enjoyed subjecting that pair to a thorough workout, flicking the ball past Akanji once to tepidly fire at Yann Sommer.
An even better chance came when Brentford's Bryan Mbeumo – whose advance to the right was sporadically threatening – unleashed a shot that Sommer parried into the path of well-placed Karl Toko Ekambi, whose effort went wildly wide of target. Otherwise, Toko Ekambi was marked efficiently and intelligently by Silvan Widmer.
Rigobert's Song's tactics may have come straight from Sam Allardyce's playbook, but when the impressive Sommer made another save, this time from Martin Hongla, Switzerland looked upset. By half time they had barely threatened and failed to get on target. In addition, Cameroon's main midfielder André-Frank Zambo Anguissa of Napoli had finished strongly in the first 45 minutes and looked capable of disrupting the Freuler-Xhaka axis.
But for all of Cameroon's pressured, fullback-driven counter-attacks, their defense looked a bundle of nerves on those, admittedly strictly rationed, times Switzerland delivered the ball into their penalty area.
They should have scored after such a raid in the 45th minute, but Akanji botched an inviting header opening after meeting a corner from Freuler.
Perhaps that miss spurred Switzerland, who emerged in a much slicker, sharper passing mode in the second half and were quickly rewarded when Embolo struck.
With the defense losing concentration, Shaqiri was allowed to take advantage of clever approach work from Xhaka and Freuler and sent a low cross to the also unattended goalscorer. All that was left was for Embolo, who has created a charitable foundation that helps refugees in Switzerland and underprivileged children in Cameroon, to pat the six-foot ball home for that impassive response.
It was Switzerland's first shot on target and for a moment the African drums and vuvuzelas – which had been making quite a noise in the Doha subway early Thursday – fell silent.
The soundtrack had resumed by the time Zambo Anguissa's superb interception prevented Embolo from registering another goal and denied André Onana's superb diving save to Ruben Vargas.
After that, Switzerland retreated deeply and took their defences. With Choupo-Moting a shadow of themselves in the first half, Cameroon was unable to continue.
"It's hard to lose a game that we dominated in the first half," said Song. "I'm disappointed, but we only have three players with previous World Cup experience and there are two games left."