Argentina reported monthly inflation of 7.4 percent in July, the highest in two decades for a country where citizens are used to raising prices.
The country's central bank raised its benchmark rate by 950 basis points on Thursday, while inflation rose to a 20-year high of 71 percent, according to new data.
The bank raised its benchmark rate for the 28-day term from 60 percent to 69.5 percent, a rate it set two weeks ago when it raised rates by 800 basis points.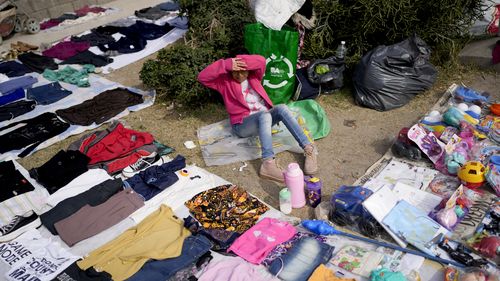 At a time when many
people all over the world
trying to cope with rapidly rising prices, the latter figures cemented Argentina's position among countries with the highest inflation rates in the world.
The effects of the inflation scourge are clearly visible in Villa Fiorito, about 15 kilometers from
downtown Buenos Aires
where unemployed women gather in the hope of bartering goods for food in a square.
Every afternoon, women would put on their blankets and carefully put down all sorts of goods, including clothes, toys and used kitchen utensils, in the hopes of bartering them for food to feed their families.
The barter that takes place every day in Villa Fiorito, known as the birthplace of the late football legend Diego Armando Maradona, has proved a way for dozens of women who have no steady income to make ends meet at a time when the cost of living has risen.
In Argentina, things are likely to get worse before they get better, as analysts predict inflation is likely to be above 90 percent this year, with many speculating that triple-digit inflation is likely if the
government
of President Alberto Fernández fails to curb rising prices.
The price hikes have hit food commodities particularly hard, worsening the poverty rate, which already affects some 40 percent of the population of about 47 million people.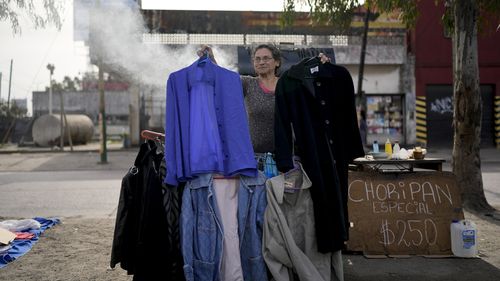 Soledad Bustos, 31, opens a shop every afternoon at the Villa Fiorito fair while one of her children is in school and another is in the care of her sister.
Bustos offers jeans, leather boots, sneakers and shirts that she has taken from her own closet or bought via Facebook.
In return, she asks for powdered milk, which has become unreachable.
"I can't make it to the end of the month, the money is not enough," said Bustos, a single mother.
Bustos is unemployed and says she receives about 36,000 pesos ($375) a month from the state, which is not enough to feed her family.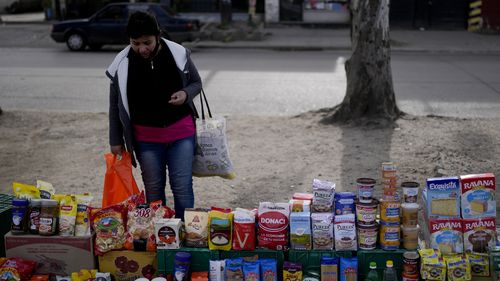 "I can't survive on welfare. Besides food, I also have to buy things for the children's school and medicines. I have no choice but to come here to get some more," Bustos said.
These types of exchanges began to spread in Argentina after the economy collapsed in 2001 during the worst economic crisis in its modern history.
But they have resurfaced in recent years amid galloping inflation that has remained in the double digits for years.
"This is hand-to-mouth living," said María Inés Pereyra, 48, the coordinator of the fair, which runs Monday through Saturday.
"Whatever they get today, they take it straight to the dinner table."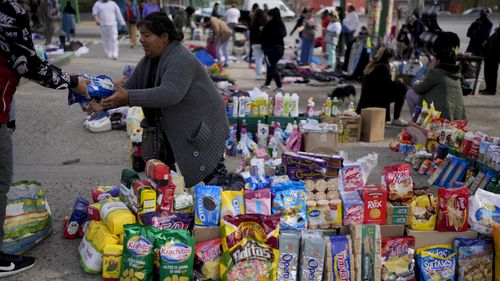 For security reasons, only women can participate in bartering and most exchanges were previously arranged via Facebook or WhatsApp.
While there is no set value for the merchandise used, Pereyra has set a maximum price of 300 pesos ($3) for each item of clothing.
As an example, she pointed to a pair of leather sneakers that could be traded for a packet of sugar, cooking oil, flour and a local tea infusion.
Fernández's government has blamed high inflation in July on a currency crisis triggered by "speculative movements that sought to create a crisis of uncertainty and cause devaluation," government spokeswoman Gabriela Cerruti said Thursday before inflation was released.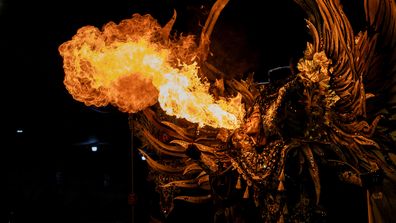 Photos of the week: Fiery show from the world's largest street carnival
The acceleration of the country's already high inflation comes shortly after the government had three economy ministers in place within a month, amid uncertainty that led to the local currency depreciating sharply in the financial market.
Analysts, and even members of Fernández's government, expect inflation in August to be similar to July, partly due to price increases for public transport and energy.
At Villa Fiorito, Bustos says she and her fellow barters are only focused on "survival."